ESG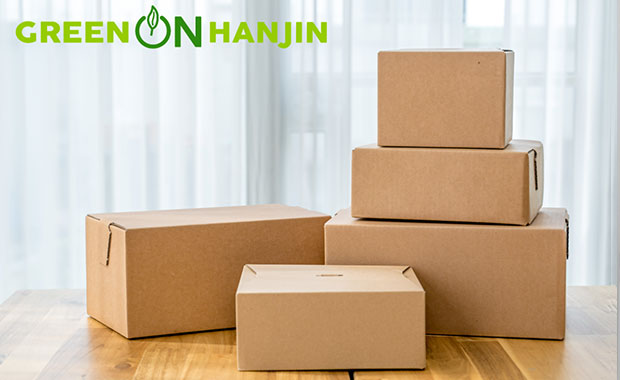 Eco-friendly companion platform
Hanjin launched the eco-friendly companion platform 「Green On Hanjin」 in October 2021 where small business owners and one-person founders communicate and participate together.
Green On Hanjin is a communication channel where small business owners and one-person businesses can purchase eco-friendly products needed for work at reasonable prices and share relevant news and ideas.
Hanjin will actively support them to participate in green activities so that eco-friendly culture can spread throughout society.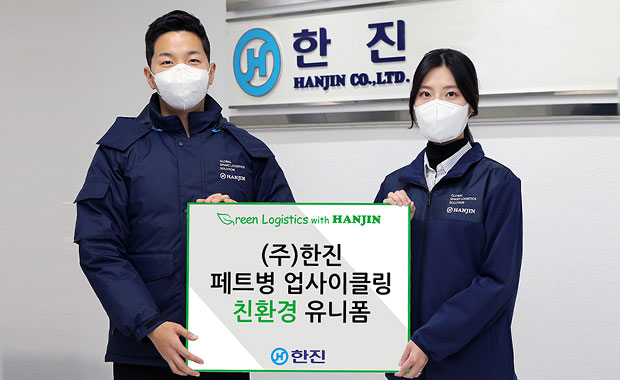 Eco-friendly upcycling uniform
Hanjin produced eco-friendly winter uniforms using plastic bottle recycled fibers and distributed them to all employees, couriers, and partner companies.
This eco-friendly uniform is an upcycling clothing made of discarded transparent PET bottles and of functional materials which are optimized for heat/waterproofing to enhance activity and convenience, and which are also obtained Swiss "bluesign®" certification.
250,000 PET bottles which weighs 7.5tons were used to produce 12,000 pieces of jumper this time, and which is expected to reduce carbon dioxide emissions by about 15 tons compared to reclamation and incineration.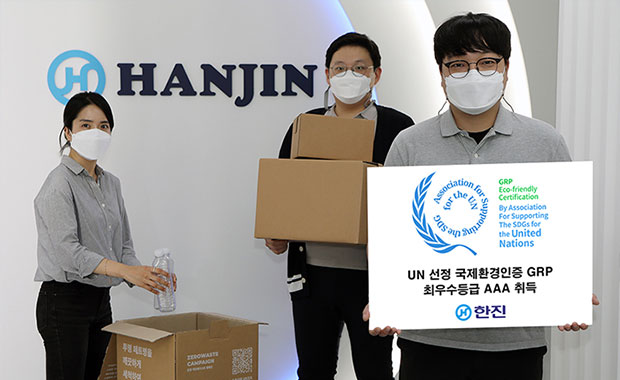 Hanjin obtained AAA grade of GRP (UN's Voluntary Pledge of international Certification)
Hanjin won the highest grade (AAA) in recognition of its achievements in eco-friendly logistics activities and cultural creation at the GRP certification (Guidelines for Reducing Plastic Waste & Sustainable Ocean and Climate Action Acceleration), an international pledge annually evaluated and announced by the Association for Supporting the SDGs for the UN.
Hanjin continues to strive to create an eco-friendly culture and promote various activities utilizing our logistics capabilities to respond to climate change.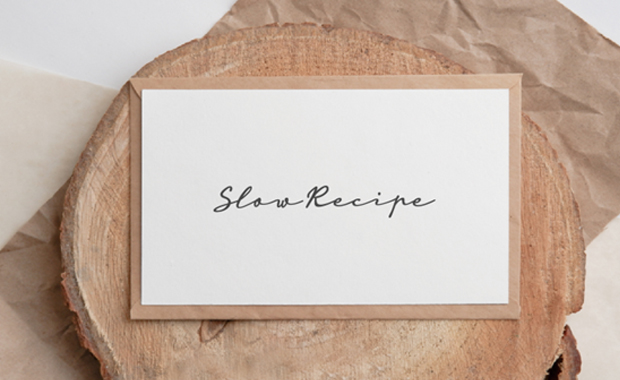 Electric/hybrid delivery vehicle pilot project
In order to reduce carbon emissions of diesel vehicles and to respond to environmental issues preemptively, we are implementing a pilot project for electric/hybrid delivery vehicles. We are listening to the opinions of delivery drivers through a pilot project and taking the lead in eco-friendly logistics to reduce carbon emissions. We are working to introduce hybrid delivery vehicles with high fuel efficiency and low exhaust gas emissions as well as electric delivery vehicles that emit no exhaust gas, noise and vibration.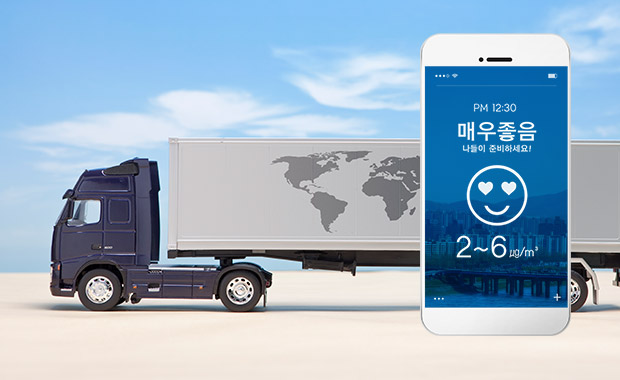 Participation in the agreement on low pollution measures for freight vehicles
To enhance air quality, we are actively participating in the government's eco-friendly policies through compliance with the fine dust seasonal management system implemented by the Ministry of Environment. By executing on this agreement on low-pollution measures for freight vehicles with the Metropolitan Area Atmospheric Environment Administration, we are working to promote company-wide low-pollution measures.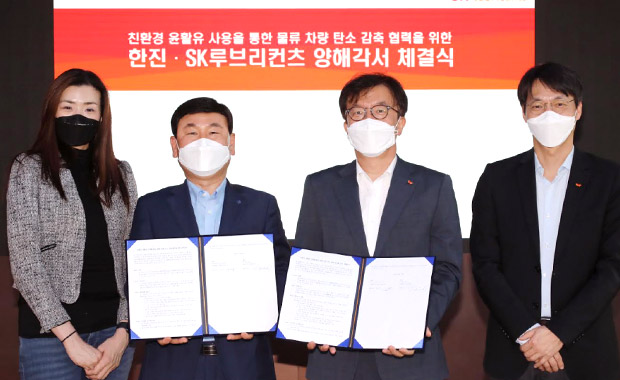 Carbon reduction cooperation project in logistics vehicle through the use of eco-friendly lubricants
In order to minimize the environmental impact by reducing carbon emissions from logistics activities, we are striving to practice eco-friendly logistics through signing a business agreement with SK Lubricants to use eco-friendly lubricants for logistics vehicles. We will compare and analyze the carbon emission results of eco-friendly lubricants and general lubricants for our logistics vehicles, and based on the improvement effect, contribute to protecting our earth by reduing carbon dioxide in logistics vehicles, saving energy, reducing harmful substances, improving resource circulation, etc.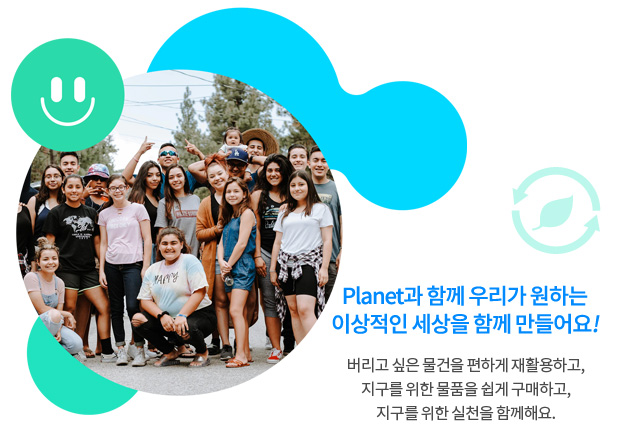 Eco-friendly Upcycling Partnership
In response to the recently emerging environmental pollution problem, Hanjin has created an eco-friendly upcycling cooperation project to collect and recycle discarded disposables with 'TerraCycle', a global upcycling company. We are taking the lead in raising social interest in eco-friendly participation by promoting eco-friendly campaigns through business partnerships, developing, and selling a Zero Waste Box (ZWB) that can store and collect disposable items thrown away at home/company, and selling the recycled products made by reusing the collected disposable items etc. In addition, Hanjin and TerraCycle are taking the lead in eco-friendly ESG management by developing "Planet," an online-based upcycling platform, so that people can participate in eco-friendly activities more easily and conveniently.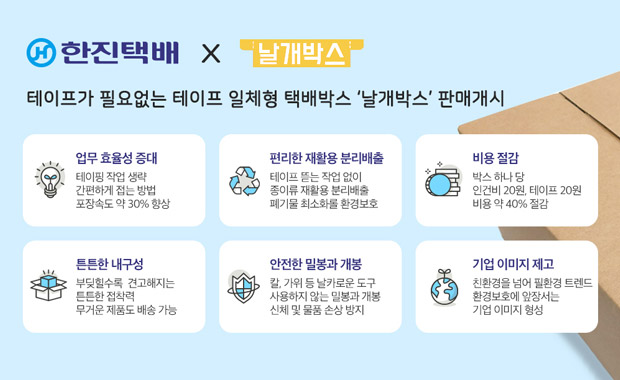 Platform for jointly purchasing eco-friendly Wing Box
'Wing Box' is an eco-friendly, tape-free box developed by supplementing the shortcomings of the existing delivery box. We are operating a platform to produce and sell 'Wing Box' in collaboration with a startup company called Eco-Life Packaging. Through this, small-scale sellers can purchase eco-friendly boxes at low prices to reduce logistics costs, and Eco-Life Packaging secures stable sales demand. Customers can separate and dispose of delivery boxes without removing the tape. Hence, this Wing Box is also spreading a positive impact on solving environmental problems due to increased parcel volumes.