Stevedoring
Container terminal
Container Terminal
Overview

We will always do our best for customer's cargo with the mindset of receiving the first container after opening the terminal.
Hanjin's container terminal business is the largest terminal operator in Korea and has nationwide networks, including four terminals in Busan, Incheon, Pyeongtaek and Vietnam, and six inland logistics hubs in Uiwang, Jungbu, etc., and provides comprehensive services such as stevedoring, transporting and storage through the inland transportation business.

Also, we have ultra-large equipment and state-of-the-art system for berthing vessels of 20,000 TEU or over based on the trend of larger size of container vessels, and have the best terminal operation capability in Korea by applying international port security and safety standards.
Korea's largest terminal operator
World's first horizontal automatic classification yard control terminal
Capable of berthing large vessels of 20,000 TEU or over
Provides comprehensive logistics service
Network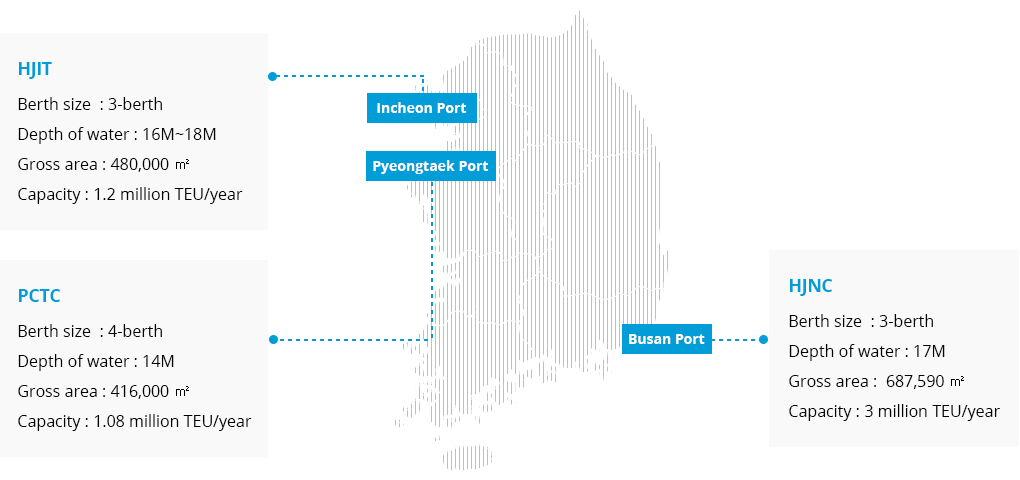 터미널 정보
Incheon Port : HJIT
Berth size : 3-berth
Depth of water : 16M~18M
Gross area : 480,000 ㎡
Capacity : 1.2 million TEU/year
Pyeongtaek Port : PCTC
Berth size : 4-berth
Depth of water : 14M
Gross area : 416,000㎡
Capacity : 1.08 million TEU/year
Busan Port : HJNC
Berth size : 3-berth
Depth of water : 17M
Gross area : 687,590 ㎡
Capacity : 3 million TEU/year
Service inquiry
서비스 문의 안내로 서비스 구분, 대표 연락처, 대표 메일 정보제공

| Service classification | Representative Contact | Representative E-mail |
| --- | --- | --- |
| Container cargo work​​ | +82-2-728-5656​ | swokim@hanjin.co.kr​ |
General Cargo Stevedoring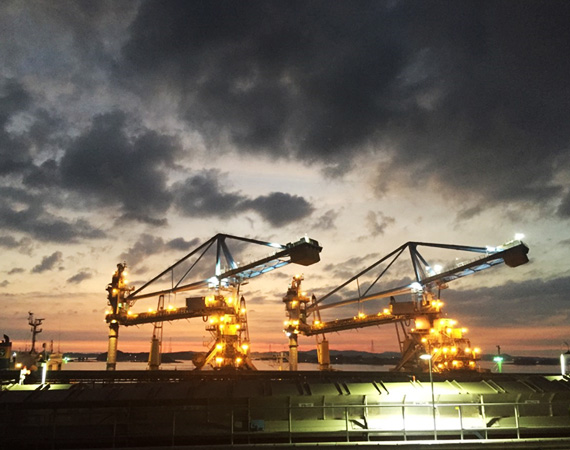 General Cargo Stevedoring
Overview
Hanjin has faithfully fulfilled its role as a pioneer in the stevedoring field, from overseas stevedoring business to construction of private-invested docks for the first time in Korea.
We have the latest stevedoring facilities and heavy equipment in each port of the country, and we provide the best stevedoring service including comprehensive works, such as transportation and storage as well as stevedoring, for imported/exported cargo, such as containers, industrial goods, automobiles, heavy cargoes, grains, steel products, iron ore coal, and domestic transported goods. And, we devote to improve customer satisfaction by establishing an optimal network such as securing additional new ports and stably handling goods.
Stevedoring of general cargoes / Steel products
For the stevedoring of general bulk cargo and steel products, we operate docks in major ports across the country, including Pohang Port, Gwangyang Port, Ulsan Port, Jeju Port, Boryeong Port, New Boryeong Port and Masan Port, and lead the stevedoring industry with our accumulated experience and technology. We are committed to providing better stevedoring services, including the industry's first AEO certification for stevedoring.
Stevedoring of grains
We have two silos for grain only with a temporary storage capacity of 100,000 tons at Incheon Port's private dock, and we have an air-lifting automatic conveyor carrier and a dedicated unloader capable of handling 800 tons per hour. We handle the entire process including unloading, warehousing, storing and shipping grains with an electronic computer control system, so grain cargo that is sensitive to climate change can always be kept in optimal condition.
Stevedoring of raw materials
We provide the best stevedoring service of raw materials at major raw material docks such as Pohang, Gwangyang, Boryeong and New Boryeong by securing a dedicated unloader for efficient stevedoring of steelmaking raw materials such as iron ore, coal and limestone, and bituminous coal for power generation, and a multi-functional dozer in vessel for easy unloading of raw material cargo in the vessel.
Network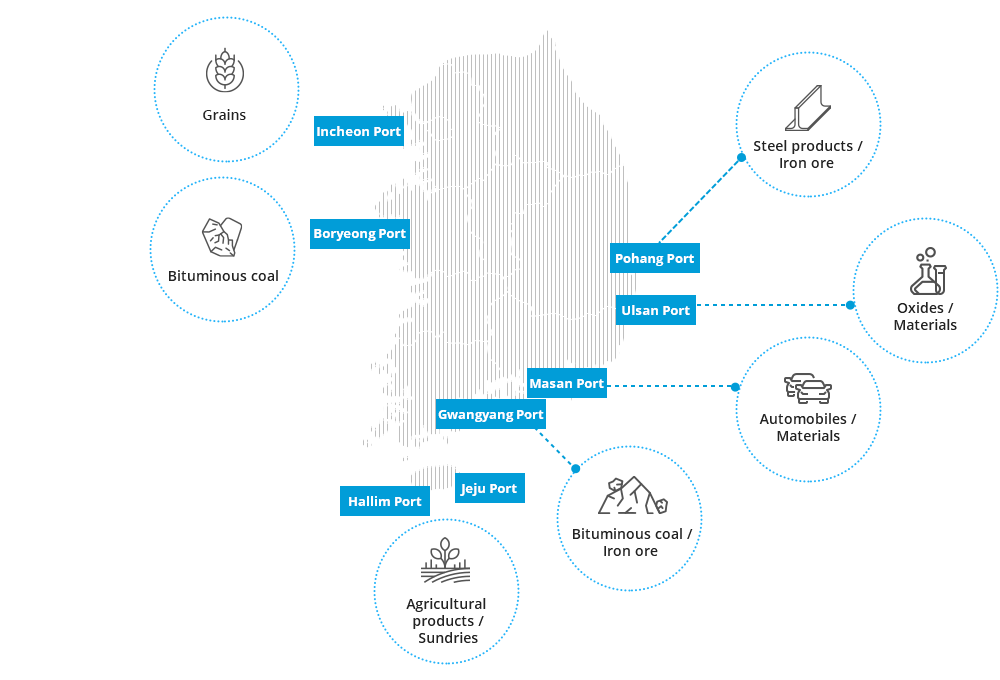 항만하역 분야 정보
인천항 : 양곡
보령항 : 유연탄
광양항 : 유연탄/철광석
한림항, 제주항 : 농산물/잡화
마산항 : 자동차/기자재
울산항 : 산화물/기자재
포항항 : 유연탄/철광석
Service inquiry
서비스 문의 안내로 서비스 구분, 대표 연락처, 대표 메일 정보제공

| Service classification | Representative Contact | Representative E-mail |
| --- | --- | --- |
| General cargo work | +82-2-728-5861​ | seryu@hanjin.co.kr |