Inland Transportation
Container Transport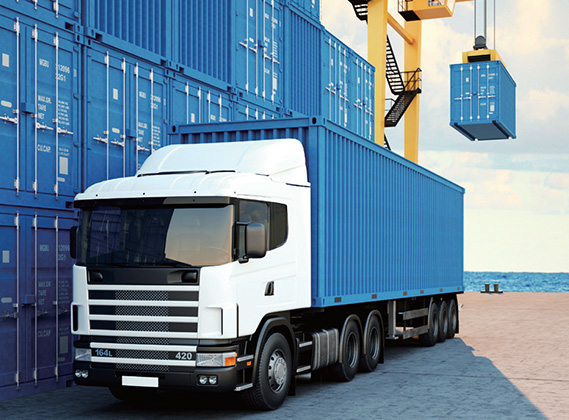 Container Transport
Overview
Korea's first container transport introduced! The history of inland transportation is that of Hanjin!
Hanjin, which introduced the container transport system for the first time in Korea in 1969, transports container cargo safely and accurately to the desired location by using hubs and infrastructure for logistics located throughout the country, provides real-time tracking information and improves customer convenience by introducing the fleet management system.
01
50 years of know-how
Know-how in transporting logistics containers that has been accumulated over 50 years
02
Best logistics infrastructure
Has major domestic hubs such as terminals and ICDs
03
Integrated transport solution
Provides one-stop integrated transportation service in connection with railroad transport
Container transport process

We provides more expanded services by linking roads and railways. We have railroad CYs and CDs in major hubs across the country, such as Uiwang, Busan, Sejong, Gumi and Gwangyang, and they not only provide various services such as transporting containers and vanning/devanning container cargo, but connect each port and major cities in Korea perfectly.
Infrastructure
Hanjin operates ICD (Inland Container Depot) and CD (Container Depot) in major logistics hubs across the country to provide the best transportation services.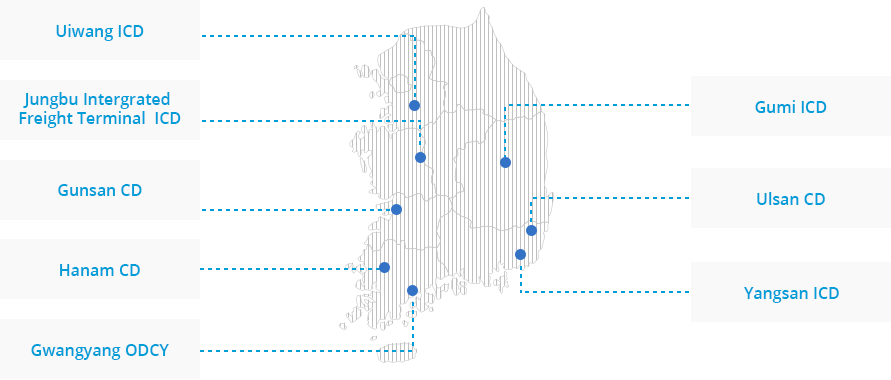 Infrastructure
Uiwang ICD
Jungbu Intergrated Freight Terminal ICD
Gunsan CD
Hanam CD
Gwangyang ODCY
Gumi ICD
Ulsan CD
Yangsan ICD
Service inquiry
서비스 문의 안내로 서비스 구분, 대표 연락처, 대표 메일 정보제공

| Service classification | Representative Contact | Representative E-mail |
| --- | --- | --- |
| Container Transport​ | +82-2-728-5761 | hkuh@hanjin.co.kr |
General Cargo Transport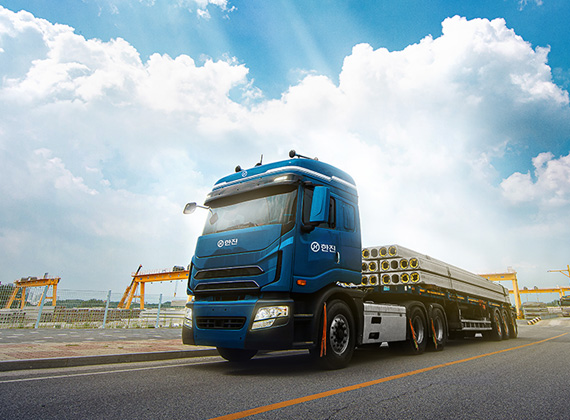 General Cargo Transport
Overview
We provide the optimal transportation services considering various sizes, shapes and weights of cargo.
Through the global network and various equipment for the transportation of diverse general cargoes, we provide the general cargo transport service that safely transports steel products and heavy cargo to the desired place.
Bulk
Provides customized solutions and transportation services for various non-standardized cargoes
Oils/Dangerous Substances/Hazardous Chemicals
Safely transports oils, dangerous substances, petrochemicals, etc. using customized tank lorry and equipment
Supplies for military/government use
Provides stable and efficient logistics service through experts for cargo for military/government use that has to meet strict freight conditions, including licensing
Heavy cargo
Provides transportation services for supersized cargo such as railroad bridge and hull block through specially designed inland transportation equipment
Steel products
Not only reduces distribution costs of customers but provides optimal logistics services through the steel industrial cluster, hubs, and know-how of dedicated personnel/vehicles
Construction materials
Provides optimal services through transportation optimized for various conditions depending on product characteristics such as gypsum board, glass and PILE
Auto
Provides a wide range of automotive logistics services from small parts delivery to finished vehicles
Service inquiry
서비스 문의 안내로 서비스 구분, 대표 연락처, 대표 메일 정보제공

| Service classification | Representative Contact | Representative E-mail |
| --- | --- | --- |
| Construction material, chemical, petrochemical and oil refining transportation​ | +82-2-728-5768 | wreun@hanjin.co.kr​​ |
| Bulk, steel, cargo for military/government use transportation | +82-2-728-5861 | seryu@hanjin.co.kr​ |
| Heavy cargo transportation​​​ | +82-52-901-0133​ | daeskim@hanjin.co.kr​ |
| Auto transportation​​ | +82-2-728-5783 | kiclee@hanjin.co.kr​ |
Distribution transport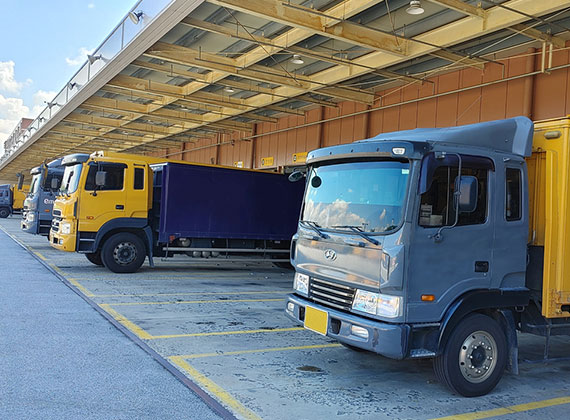 Distribution Transport
Overview
We provide logistics services optimized for customers' needs by linking with the storage business, focusing on superstores, daily necessities, and fresh groceries.
From temperature-sensitive fresh groceries to various industrial products, we provide distribution services optimized for customers based on Hanjin's unique distribution and transport know-how.
01

Thorough temperature control and optimal storage service through cold storage and room temperature warehouse infrastructure

02

Cost competitiveness through stable customized dispatch service and optimal logistics solution

03

One-stop integrated logistics service linking storage and transportation

04

Best consulting service on logistics through customer-specific analysis

05

Fast and systematic customer management process
Distribution transport

Transportation between vendor and distribution center
Transportation between production plant and distribution center
Bonded transportation of imported goods
Operation of distribution center
Stevedoring, warehousing, inspection, storage, shipment, delivery and closing of goods
Location management, inventory management, distribution processing
Picking (1st class, 2nd class) and distribution of the quantity to be loaded by dock
Delivery inspection, loading management
Management of receipt and disbursement of rolltainer and P box
Management of returns/damage/exchange
Delivery
Delivery to sales offices and business sites nationwide
Collection (rolltainer, empty box)
Movement of goods between business sites and sales offices
Labor management for delivery man
Service inquiry
서비스 문의 안내로 서비스 구분, 대표 연락처, 대표 메일 정보제공

| Service classification | Representative Contact | Representative E-mail |
| --- | --- | --- |
| Distribution transport​​ | +82-2-728-5783 | kiclee@hanjin.co.kr​ |